Quality Information
---
The labelling

See that there is a known manufacturer's labelling. The DIN describes the labelling of hammers specifically. A DIN number without the permanent mounted manufacturer's logo on the hammer head (imprinted logos on the handle is insufficient!) is not permitted. Such hammers are often poor and unreliable in quality.
The Device Safety Act is binding for all manufactures which implies the DIN 1041 with the ball peen hammers or also known as an engineer's hammer. The hammers with DIN labelling without permanent imprinted logo do not comply with law!
The handle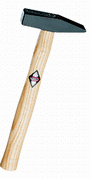 A further optical criterion is the handle.
Is the handle firm or wobbly?
Has it been wedged properly?
Are there any tears or insertions visible?
Is the handle made out of qualified wood?
Permitted is wood which is according to the Technical Delivery Terms and Conditions DIN 68340, and qualified are ash, hickory and acacia. The wood should be long fibred to avoid breaks in case of an off target blow. The fitting of the handle must be checked carefully especially with steel, plastic or glass fibre handles. Fitted handles must be bonded very firmly.
The chamfer

Quality hammers have a clean chamfer of approx. 45º. This chamfer prevents chunking on the striking face and nose. Sudden discharge of metal particles can shoot out and unfortunately often lead to severe injuries! See that the chamfer is accurate on striking face and polished peen.
The hardness values
The hammers must be hardened and tempered accurately with high quality performance steel C45. The hardness values on face and peen must be between 50 and 58 HRC and the depth of hardening must be 3mm. The hardness in this area must not exceed 30 HRC to avoid breaks.
The check list
Manufacturer is well-defined
Manufacturer's logo has been permanently imprinted or lasered on the hammer head?
DIN Labelling existent? (This is only legal in combination with the manufacturer's logo)
Is the handle firm?
Is the handle free from defects?
Turn test rubber grip?
Is there a gap between hammer handle and hammer eye?
Is the chamfer accurate on hammer head and peen?