Wir haben einen spannenden Tag bei der Dachdeckerei/Zimmerei ZEP-Team in Bielefeld verbracht und waren mit auf der Baustelle. Das ZEP-Team arbeitet schon jahrelang mit PICARD-Werkzeug und die Mitarbeiter schildern ihre positiven Erfahrungen. Seid gespannt und schaut's euch an, was das ZEP-Team zu unseren Hämmern und Nageleisen zu sagen hat!
The time has come again: The hammer specialists from PICARD have reissued their informative and user-oriented catalog. Clearly structured and bilingual (German / English), the current edition also demonstrates the high quality of the products with impressive product details and expressive visual language. Here the craft speaks the language of the craft. This shows the attention to detail.
At the same time and in addition, the also bilingual catalog of the Ruthe range is published. Ruthe products round off the PICARD range with entry-level tools.
Both catalogs can be ordered directly from PICARD or downloaded here.
PICARD is once again helping to make work on construction sites easier and safer. The new BlackGiant® Bar product range has redefined the standards for nail pullers. The nail puller's T profile increases the stability of the tool and also reduces its weight. Less weight – less effort.
The progressive curvature of the rounded end has increased the positive effects for workloads by enabling 55% more stroke. Increased stroke – less power required. The rough and tough coating and raw claw reduce the risk of slipping, consequently ensuring a higher level of work safety. Less slipping – more safety. Reduced risk of unintended damage to the subsurface thanks to the particularly widely forged bearing surfaces. More contact – less damage.
Thanks to its ground blades, the new BlackGiant® Bar makes it easy to access small gaps and - with its 90° design - offers clear advantages for vertical surfaces. More functions – less changing tools. Users can benefit from these advantages for years to come as the BlackGiant® Bar is forged, hardened and tempered from one piece of alloyed steel. The signature orange PICARD coating also ensures tools are always quick and easy to find and consequently reduces the risk of losing them. PICARD quality – extremely long service life.
As PICARD is all too familiar with the challenges faced on construction sites from its extensive collaborations with professionals in the construction industry, the BlackGiant® Bar is available in 3 lengths and two additional handy nail pullers have been added to the product range. The BlackGiant® Flat Bar was specially developed for the removal of small and deeply embedded nails and for customers looking for a small and easy-to-use tool. The BlackGiant® Utility Bar is ideal for avoiding as much damage as possible and working precisely with good handling.
You can download the product information here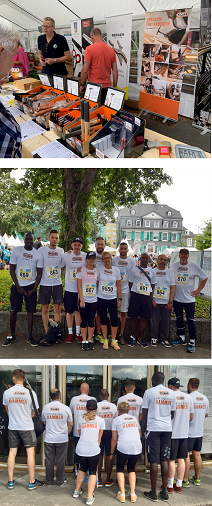 PICARD GmbH showed its commitment to and roots in the region twice in one weekend.
On the 6th of July 2019 the 25th Cronenberger Werkzeugkiste took place, a folk festival with more than 40.000 visitors for a good cause - proceeds and donations are donated to social and charitable organisations.
At the shared stand of the GCU (Gemeinschaft Cronenberger Unternehmen - Community of Cronenberg Companies) a PICARD team presented and sold selected highlights from the portfolio at special prices.
Only one day later, a PICARD team took part in the company run on the initiative of Gerrit Hohage (2nd from left) as part of the Wuppertal suspension railway race.
Every year, more than 8,000 participants and 20,000 visitors make this event an atmospheric event at which the companies of the region get active and showcase their athletic skills.
Captain Frank Simon (Managing Director) and his team took a remarkable 41st place out of 1,676 teams with the three best runners. All participants had a lot of fun in the fantastic running weather and the PICARD team was reportedly only seen from behind by most other teams.
Gifts of a special kind, for all who appreciate and love the value of craftsmanship. PICARD offers a series of quality tools with high-class finishes in a harmonious gift box.
Whether the claw hammer with a gilded or chromed tubular shaft, or the machinist's hammer with a dark hickory shaft or the masterpiece with a leather handle, each tool represents the special appreciation of the recipient and craftsmanship.
An ideal present for anniversaries, birthdays, passed exams, acquisitions and many more occasions.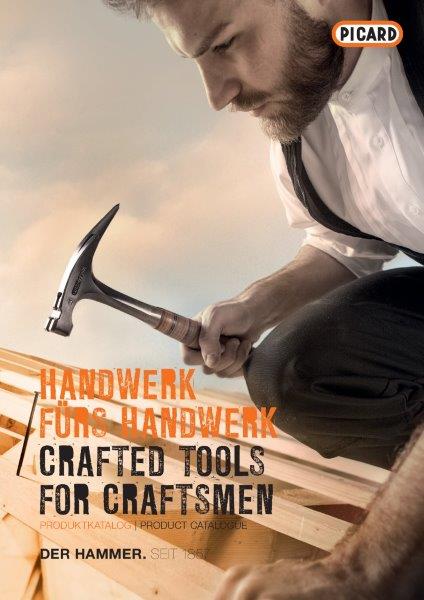 In its usual clear and bilingual way (German/English), the catalogue demonstrates the high value of the products in the current edition with new and impressive product details and a highly expressive pictorial language.
This is where artisans speak the language of artisans. This is where a love of detail makes its presence felt.
That is why PICARD has specifically opted for the needs of roofers by creating a 32-page brochure that, with the same quality aspirations, is aimed at this very group of artisans.
Both documents can be ordered directly from PICARD or downloaded here.
As of 1 July 2017, Erwin Halder KG from Bronnen/Achstetten, near Ulm, is going to acquire Joh. Hermann PICARD GmbH & Co. KG and the fully integrated subsidiary RUTHE Hammerfabrik GmbH & Co. KG and transfer them jointly into the new company PICARD GmbH.
In 1938, the name-giver and founder of the company developed his patented SIMPLEX soft-faced hammer that constituted the foundation stone of today's diversified group of companies. HALDER und PICARD not only complement each other as premium manufacturers in their respective product ranges, but are also, as family-run companies with great value-added depth, emblematic of the term "made in Germany".
For more than 10 years now the two companies have maintained business relationships, which have duly intensified in recent years and led to joint sales and marketing activities. Stefan Halder, managing director of Erwin Halder KG, regards the acquisition as a strengthening of both brands on the market and a source of considerable synergies. At least 2 million euros are going to be invested in operating materials and production facilities at PICARD's location in Wuppertal. The PICARD brand will remain intact and the contact persons will remain the same as well. The previous managing director Frank Simon, for example, will assume this function at the new PICARD GmbH.
PICARD has done it again and wrested new fields of application from the world's oldest tool. The new hammer type that has now been presented is a symbiosis of the European roofing hammer and the American claw hammer. As usual with PICARD, this innovation too gives top priority to user value:
Nails can now simply be accommodated better in tight niches and levered vigorously. In this respect, the new hammers have a clear advantage over the roofing hammer with a peen – when picking up the nails and when levering – and over the strongly curved claw hammer – when levering.
Carpenters, roofers, formworkers and construction workers in particular can be pleased about that, but other workers of various kinds will also know how to make use of its advantages.
The new hammer type is forged by Picard in a long-handled (FRAMING HAMMER) and a short-handled (RIP HAMMER) variant. Both variants are offered in combined form with leather and 2K handle. The two FRAMING HAMMERS have already been tested by the trade journal Motor & Maschine and achieved an outstanding score of 1.3.
The entire PICARD Team is launching itself into the New Year with vigour and is again eager to get things moving in all sorts of ways.
As a perfect example of that, this website will henceforth show a number of highlights from the product range executing a 360°turnaround. In this way, the proverbial PICARD quality, around which everything else revolves, can be observed from many different angles.