Gifts of a special kind, for all who appreciate and love the value of craftsmanship. PICARD offers a series of quality tools with high-class finishes in a harmonious gift box.
Whether the claw hammer with a gilded or chromed tubular shaft, or the machinist's hammer with a dark hickory shaft or the masterpiece with a leather handle, each tool represents the special appreciation of the recipient and craftsmanship.
An ideal present for anniversaries, birthdays, passed exams, acquisitions and many more occasions.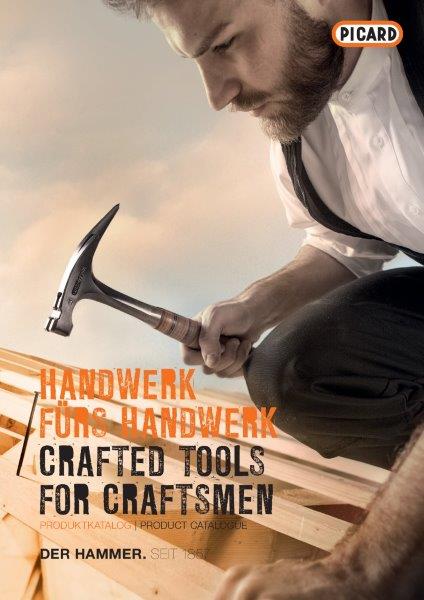 In its usual clear and bilingual way (German/English), the catalogue demonstrates the high value of the products in the current edition with new and impressive product details and a highly expressive pictorial language.
This is where artisans speak the language of artisans. This is where a love of detail makes its presence felt.
That is why PICARD has specifically opted for the needs of roofers by creating a 32-page brochure that, with the same quality aspirations, is aimed at this very group of artisans.
Both documents can be ordered directly from PICARD or downloaded here.
As of 1 July 2017, Erwin Halder KG from Bronnen/Achstetten, near Ulm, is going to acquire Joh. Hermann PICARD GmbH & Co. KG and the fully integrated subsidiary RUTHE Hammerfabrik GmbH & Co. KG and transfer them jointly into the new company PICARD GmbH.
In 1938, the name-giver and founder of the company developed his patented SIMPLEX soft-faced hammer that constituted the foundation stone of today's diversified group of companies. HALDER und PICARD not only complement each other as premium manufacturers in their respective product ranges, but are also, as family-run companies with great value-added depth, emblematic of the term "made in Germany".
For more than 10 years now the two companies have maintained business relationships, which have duly intensified in recent years and led to joint sales and marketing activities. Stefan Halder, managing director of Erwin Halder KG, regards the acquisition as a strengthening of both brands on the market and a source of considerable synergies. At least 2 million euros are going to be invested in operating materials and production facilities at PICARD's location in Wuppertal. The PICARD brand will remain intact and the contact persons will remain the same as well. The previous managing director Frank Simon, for example, will assume this function at the new PICARD GmbH.
PICARD has done it again and wrested new fields of application from the world's oldest tool. The new hammer type that has now been presented is a symbiosis of the European roofing hammer and the American claw hammer. As usual with PICARD, this innovation too gives top priority to user value:
Nails can now simply be accommodated better in tight niches and levered vigorously. In this respect, the new hammers have a clear advantage over the roofing hammer with a peen – when picking up the nails and when levering – and over the strongly curved claw hammer – when levering.
Carpenters, roofers, formworkers and construction workers in particular can be pleased about that, but other workers of various kinds will also know how to make use of its advantages.
The new hammer type is forged by Picard in a long-handled (FRAMING HAMMER) and a short-handled (RIP HAMMER) variant. Both variants are offered in combined form with leather and 2K handle. The two FRAMING HAMMERS have already been tested by the trade journal Motor & Maschine and achieved an outstanding score of 1.3.
The entire PICARD Team is launching itself into the New Year with vigour and is again eager to get things moving in all sorts of ways.
As a perfect example of that, this website will henceforth show a number of highlights from the product range executing a 360°turnaround. In this way, the proverbial PICARD quality, around which everything else revolves, can be observed from many different angles.